Our research has helped to understand the redox reactions of important small molecules like N2, CO2, and hydrocarbons. We often use strategies that are inspired by natural enzymes, in particular the ways that inexpensive metals can be used.
In a key example of this strategy, we developed nickel catalysts for the reduction of protons to hydrogen (H2). Hydrogen has great promise as a "clean fuel" that burns to give only water, and is a raw material for many industrial processes (including the Haber-Bosch process for nitrogen reduction). However, most H2 used today comes from fossil fuel, and it is important to develop renewable sources. Since nickel catalysts are inexpensive, they are particularly promising.
So far, we have achieved proton reduction using solar energy, through collaborations with Richard Eisenberg and Todd Krauss at the University of Rochester. These experiments use a light-harvesting molecule ("chromophore"), an electron donor, and a catalyst. Under light, H2 is produced. Using photophysical and electrochemical methods, we made several advances in understanding the stability and reactivity of catalysts with cobalt and nickel. Using CdSe quantum dots, we developed the first homogeneous systems that can form H2 for weeks without decomposition.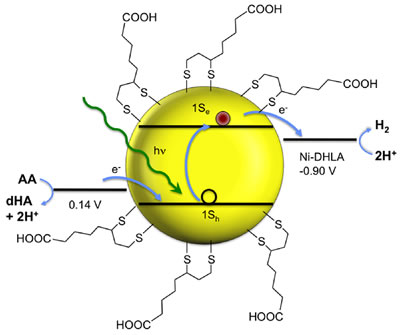 In continued research on this topic, we seek renewable catalysts for other value-added processes leading to solar fuel formation.