One focus within our investigation of low-coordinate transition metal complexes is to explore their fundamental organometallic chemistry. We have studied the first-row metals iron, cobalt, and nickel with the goal of learning how to transform organic molecules with inexpensive metals rather than the precious metals that are most common in catalysis.
We have done this by studying a strange type of organometallic compounds: ones with unpaired electrons ("high-spin"), in which the metal shares 14 or fewer valence electrons rather than the usual 18. Our research shows that these unusually low-electron-count organometallic complexes are very useful for synthesis and catalysis.

We also study hydride complexes, which are at the heart of organometallic chemistry because they are involved in many catalytic reactions. We have isolated the first examples of three-coordinate transition metal complexes with hydride ligands. These very reactive compounds can break multiple bonds in alkenes, alkynes, and diazenes.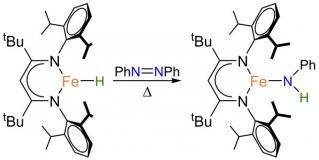 One important organometallic transformation involving metal hydride complexes is beta-hydride elimination. Through both experimental and computational investigations, we have learned that spin-state changes may be important when first-row metal compounds  undergo beta-hydride elimination.

We have more recently applied this fundamental knowledge to catalytic reactions. Two recent discoveries are that cobalt alkyl complexes can perform regioselective and stereoselective isomerization, and that cobalt(I) complexes catalyze hydrosilylation of alkenes.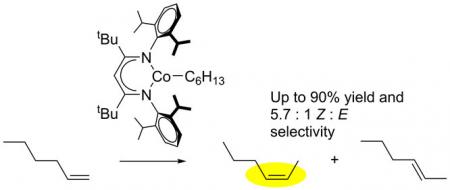 In addition, we have synthesized a "masked two-coordinate" cobalt(I) complex that is highly reactive toward small molecules, including fluorocarbons (shown below) and carbon dioxide.