Our research began with the synthesis and study of metal complexes in which the metal has only three bonds. These complexes served as a springboard into new chemistry in the early days of the Holland Group, and still yields unusual and interesting compounds.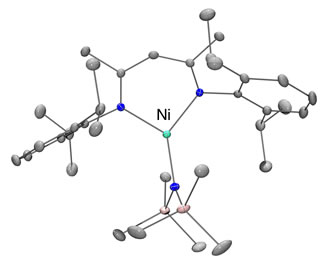 Pictured above are two examples of three coordinate complexes of iron (left) and nickel (right). Low-coordinate complexes are electronically unsaturated: whereas many complexes prefer an 18-electron configuration, the complexes shown above have only 12-14 valence electrons. This leads to unusual reactions, and the third ligand may be varied for electronic and steric control of the reactions.
We have often found that the low-coordinate complexes share electrons with their ligands in unconventional ways, known as "redox activity" of the ligands. We have published numerous detailed investigations on the details of bonding in these complexes, which pushes back the frontier of coordination chemistry. Highlights have included the first compounds with hexazene (RNNNNNNR) ligands, the reversible storage of electrons on pyridine ligands through C-C bond formation, and the use of similarly stored electrons for reactions of carbon dioxide.