Since low-coordinate transition metal complexes have unusual geometries, we aim to learn whether this influences the reaction mechanisms of their organometallic reactions. We have studied the first-row metals iron, cobalt, and nickel with the goal of learning how to transform organic molecules with inexpensive metals rather than the precious metals that are most common in catalysis.
We started working in this area by studying organometallic compounds with unpaired electrons ("high-spin"), especially ones in which the metal shares 14 or fewer valence electrons rather than the usual 18. Our research showed that these organometallic complexes are very useful for synthesis and catalysis.
One important organometallic transformation involving these organometallic complexes is beta-hydride elimination. Using both experimental and computational methods, we learned that spin-state changes may be important when first-row metal compounds undergo beta-hydride elimination.
We then applied this fundamental knowledge to catalytic reactions. For example, our cobalt catalysts can perform regioselective and stereoselective isomerization, and add silicon groups to alkenes (hydrosilylation).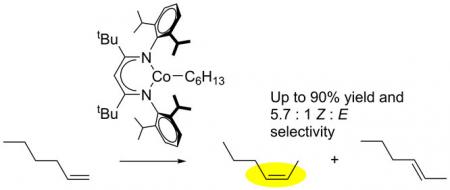 In a newer direction, we are currently studying alkene hydrofunctionalizations that use iron and cobalt hydrides to generate radical intermediates. Even though free radicals are reactive, they are stable to water and many other functional groups which makes them very useful in synthesis. Our expertise in metal chemistry has helped us to gain insight into the interesting mechanisms of these reactions.

Current funding: National Institutes of Health, R01 GM129081, "Mechanistically guided improvement in radical alkene coupling by base metal catalysts."