All living beings need nitrogen for key molecules like DNA, RNA, and proteins, and this nitrogen originally comes from N2. Even though N2 constitutes the majority of the atmosphere, our bodies are unable to use it directly, and we depend on special routes for nitrogen reduction. In nature, nitrogen reduction to ammonia (NH3) is catalyzed by the iron-molybdenum cofactor (FeMoco: Figure 1) of nitrogenase enzymes in microorganisms. In industry, iron/alkali metal surfaces are used (Haber-Bosch process). In both cases, N2 reduction is proposed to take place on iron sites. However, mechanistic details remain speculative because of the complexity of the catalytic systems.
Figure 1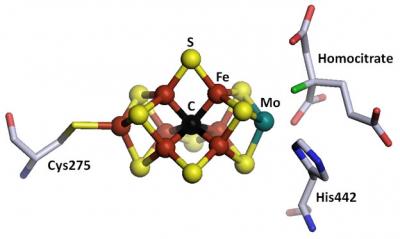 Our group uses synthetic molecules for which the structures are known in detail, in order to provide answers to fundamental questions about the nitrogen fixation process. For example, how important are the different components of the FeMoco like sulfides, carbide, hydrides, nearby amino acid residues, and metal-metal interactions? What is the mechanism through which N2 is reduced?
A key hypothesis that guides our work is that the FeMoco has reactive iron atoms. To evaluate this idea, we synthesized soluble complexes of low-coordinate iron and cobalt that reduce the NN bond order of N2 from three to two (Figure 2 and Figure 3), and showed the relationship between the metal's properties and the NN bond weakening. We also discovered that three or more iron atoms can cooperate with potassium to break the NN triple bond in N2  (Figure 4). This was the first example of an iron complex that breaks the bond of molecular N2 to give nitrides. Reaction of acids with the system produces ammonia. 
| | |
| --- | --- |
| Figure 2 | Figure 3 |
Figure 4

In another important facet of our work, we are testing the idea that the reactivity of the FeMoco iron atoms is a result of the S and C atoms that surround them. Therefore, we are incorporating S and C donors that mimic the environment of the iron atoms in the FeMoco (Figure 1 above). For example, we have prepared synthetic complexes in which two iron atoms are bridged by sulfides, and they break the NN bond in certain hydrazines (Figure 5). More recently, we have discovered that complexes with carbon-based bridges can reduce N2 to ammonia (Figure 6). We have also designed new supporting ligands that coordinate through only sulfur and carbon, providing N2 complexes that more closely mimic Fe-N2 species on FeMoco (Figure 7). Our continuing synthetic efforts are focusing on preparation of new complexes that test the influence of multimetallic interactions, carbides, hydrides, and sulfur donors.
Figure 5

Figure 6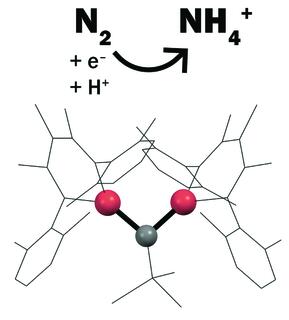 Figure 7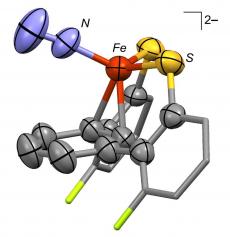 Current funding: National Institutes of Health, R01 GM065313, "Low-Coordinate Synthetic Models for Nitrogenase Activity."