We are interested in complexes with a multiple bond between a transition metal and C ("alkylidene"), N ("imido"), or O ("oxo"). With metals in groups 7-10, the M=L functionality is typically electrophilic, enabling reactions that form new bonds to difficult substrates like hydrocarbons. However, chemists have found it difficult to isolate and characterize compounds that are so reactive. The low coordination number of our compounds stabilizes metal-ligand multiple bonds, leading to reactive complexes with oxo and imido groups that can be isolated and studied in detail. For example, we reported the first isolable diiron(II) complex with an oxo ligand (illustrated below).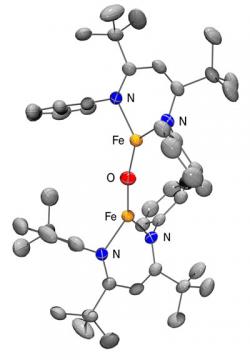 We have also characterized a reactive imido complex of iron(III). The planar geometry and the S=3/2 ground state give a relatively weak π-bond. When pyridine is added, the iron(III) imido complex abstracts hydrogen atoms from hydrocarbons (below, right), the first step toward amination of organic compounds. This C-H activation reaction is selective for sterically unhindered C-H bonds.

This compound is also a catalyst for formation of isocyanates from azides and CO, and for carbodiimides from isocyanides (see illustration). Therefore, it has an ideal balance between high reactivity for catalysis, and stability for isolation and spectroscopic study.